Home School in the Woods
is the seventh "child" of the Pak family. They have been homeschooling since 1996. They were homeschooling when homeschooling was not so popular. Amy Pak did not become fond of history until she started teaching her own children history. I can say that we have that in common. History was very dry and boring to me in high school. I often joked with my friends that it was my nap time. Something I learned while completing this review was that the Pak family does not live too far from me!
Since Amy could not find a product that had the correct images she wanted to teach with she did what any homeschool mom would do, she created her own. Ok I stretched it a little in the previous statement. Since Amy had a background in graphic design it was a perfect fit for the family. The whole family has a part in the business.
Home School in the Woods has a variety of
history related products
. They offer timelines, map sets, time traveler history studies, project passport world history studies, Lap-pak, activity paks, and activity studies. You can also download a copy of their
current catalog
from their website.
Much like the Pak family, I did not enjoy history until we started homeschooling in 2005. Since we live really close to a living history museum we have become history junkies! So as a part of the
Homeschool Crew
we were given the opportunity to review one of the products from Home School in the Woods we were thrilled. Picking one was the hardest part.
We received and reviewed,
Hands-on history Lap-Pak:The 20th Century in America
.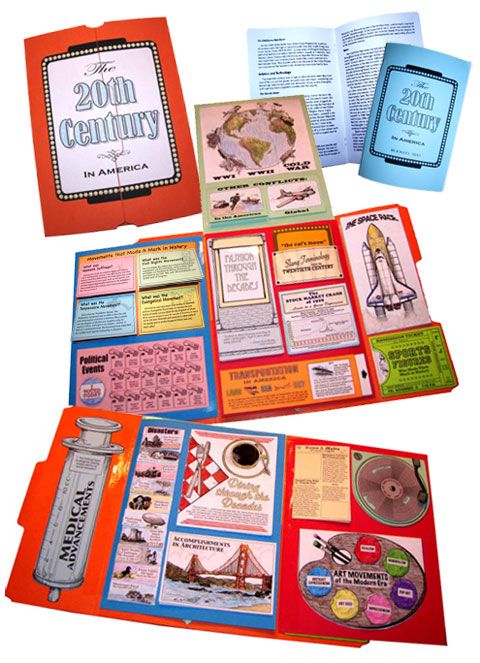 This Lap-Pak is written for those in grades 3-8. I love that about these studies. Especially when you are teaching a number of different ages.
You can
purchase this Pak
from their website as a download for $21.95 or on a CD for $22.95.
Ok now onto the fun stuff! My kids are hands on learners. I could stand in front of them teaching them fact after fact and they would probably retain none of it. But if I am able to give them something with a hands on approach to learning, they do great! We love lapbooks, notebooks and everything that goes along with that. We do them a little different than most people. We put all of our studies into a large scrapbook where we can keep them together.
The best thing about homeschooling is you do what works for your family. With this study you can make it fit your learning style. I could really make a whole history course from this study. We tend to go off on a rabbit trail when it comes to our studies. Another great thing about home schooling is that you can take as long as you like on one topic.
Art Movements of the Modern Era and Accomplishments in Architecture
Some other books we completed were Disasters that Happened and Recipes
Did you know that Sloppy Joes were created during the Great Depression to help make the hamburger go further?? I love learning about how we got a particular food item. This was just one of the many food facts you will learn when you go and purchase this.
These booklets can be colored or printed on colored paper. My kids are not that fond of coloring, so I should have printed them on colored paper. Next time I will remember to purchase some.
I have said this before, but I'll say it again. I love a curriculum that has everything laid out for me. This does just that!! Of course there is a bit of cutting and putting together. But I had my children do this while I was going over the lesson for the day.
My other crewmates reviewed various products from Home School in the Woods as well. Click on the banner to read more reviews.