Our children have asked us over and over again if they could take lessons for various instruments. Unfortunately it has never been in the budget. So when the opportunity came up for us to review
Adventus' MusIQ HomeSchool Software
we were beyond excited!!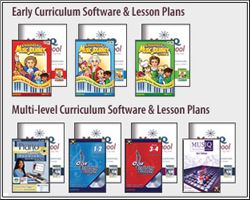 Let me tell you a little bit about
Adventus
. The company was founded in 1996 when e-learning was in it's very early stages. What a great time to jump onto the e-learning super highway! So as the company grew so did technology. Teaching through the Internet and computers has become such a success. It was only natural that teaching piano would follow suit. I am sure glad it did.
MusIQ HomeSchool
is suggested for ages 4 to 18, beginner all the way through intermediate.
There are a couple of ways you can purchase the software. The first option is through a
download
from the Internet. This option does require a monthly fee of $10.95.
The second option is to purchase a
CD of the software
. What you choose would depend on the needs of your family. You could go with
The Complete Bundle
which includes a keyboard and the all the software you will ever need for $489.95.
If you are not prepared to spend that much you could go with just the Year 1 software for $109.95, this does not include a piano. Just keep in mind you will need a MIDI Piano and a cord that you can plug into your computer.
Like I mentioned you will have to visit the
Adventus
website to see all of the options available to you. There really is something to fit every budget.
We used the
Piano Suite Premier
software as well as the
Children's Music Journey Vol. 1
. Hannah has been using the Children's Music Journey Software Vol. 1 for the most part. Katrina used the Piano Suite Premier.
Within a matter of minutes we were going through the lessons. I forgot to add above, there are also seperate lesson plans available to purchase. Which has neat worksheets you can print off. These were a big "argument" saver for our family. Especially since only one person was able to work on the piano at a time. So the others were able to complete the worksheets while waiting. These are available for $29.95 for
Years 1-3
.
Our daughter Hannah loves music. As I have mentioned here before, she has some learning disabilities. So many "conventional" ways of teaching her do not work. She was the one who has really taken off with using this program. She loves the ALL aspects of learning how to play the piano. Adventus has made it very fun to learn. We started her out at the beginning level because she had no previous experience with reading music or playing the piano. Even though she is 15 years old she did benefit from starting at the very basic.
The confidence she is building from the fun lessons taught by some our most famous composers. Her favorite has to be the lessons taught by Bach. She has always enjoyed classical music. It's exciting to her that she is able to play the piano now. Of course she has a lot more to learn. But after only a month, she is doing very well. She has learned to play from ear as well.
I do have a very sweet video of Hannah playing the piano with such excitement. For some reason I cannot get it to upload to my blog. I will continue to try later.
Our daughter Katrina also is working through the program. She has always loved music. She can hear something once and remember it word for word. I have always been amazed at what she can remember...when it's of interest of her. She is playing "How Great Thou Art" now just from hearing it. I would like her to go through more lessons to learn how to read the music.
We had to start setting a timer so we could all have a turn at our lessons. We are looking forward to using this for years to come.
Other members of the
Schoolhouse Review Crew
have been reviewing this as well. Go on over to the Schoolhouse Review Crew blog to see more.