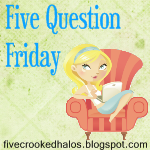 1. How many pets do you have?


Too many...LOL! No really we have 3.

Our dog...Gloria. She is a border collie.


Our cat...Caspian. He is not the friendliest of our animals. He likes to be left alone.
Our cat...Fezzywig. He is the newest addition to the family. Doesn't he look thrilled!! LOL!
2. If you could switch places with anyone in the world for one day, who would it be?
My house would finally be clean, organized, decorated. LOL!


3. What is your favorite money saving tip?



Do not go grocery shopping hungry...OR with kids! LOL! I spend so much more on groceries when I do either of these. My husband and I enjoy going together. But on the weeks we are not able to go alone he does the shopping.


4. What do you want your kids to be when they grow up?


I honestly can say it doesn't matter what I want them to be...It is what God has called them to be that matters.



5. What is your favorite quote?


Right now it is:
"What dreadful hot weather we have it keeps me in a continual state of inelegance!" ~~Jane Austen
This is how I've felt this summer...it has been SO hot!!

For more about

Five Question Friday

go on over to My Little Life and join in.